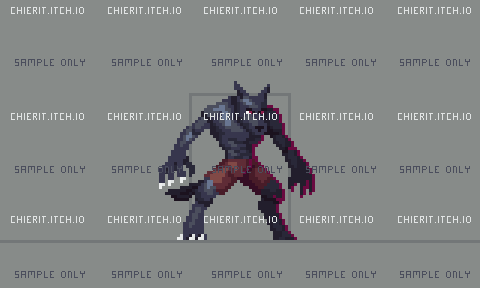 MC #003: Werewolf
A downloadable asset pack
MC#003: Werewolf
Monthly Character for October 2022
14 Animations include:
idle (10 fr), run (6 fr), jump_up (3 fr), jump_down (3 fr), air_atk (8 fr), roll (6 fr), howl (11 fr), 1_atk(6 fr), 2_atk (8 fr), 3_atk(10 fr), sp_atk (25 fr), defend (6 fr), take_hit (5 fr), death (14 fr)
*1_atk, 2_atk and 3_atk can be chained to a combo, in the full_combo animation included.
License CC-BY 4.0 - can be edited to fit your game (aseprite file included), can also be used commercially, only credit "chierit" in your game's credits or add a link somewhere to my itch page. Please don't resell.
Special shoutout to:
dmichalik
Brayan Palacios
Tianyu Mo
Jordan Williams

Happy Halloween! :)
Purchase
In order to download this asset pack you must purchase it at or above the minimum price of $7 USD. You will get access to the following files:
MC#003_v1.0_werewolf.zip
1 MB
Comments
Log in with itch.io to leave a comment.
Hi.

Can I not see your work again?
I'm asking because your work doesn't come up any more

Happy New Year.
Always making bangers, man once i'm able to support you and alot of others I will!
Your work always surprises me

Thank you very much
I need a wolf or werewolf that is hiding or disguised as an old lady. Can you do this? Commission?
Sure, that would be quite a challenge. You can contact me through my email (chierit.art@gmail.com) or discord (chierit#3881) with specific project details and your offer and we'll start discussing from there. :)
Awesome. Give me a week to assess if I wll need this art asset or another one - e.g. Medusa sprite animated. I will email you within the timeframe. Cheers! M
This looks great. I hope you can continue to make more monsters.
awwwwwweeeeeeeesomeeeeeeeeee <3 love your work <3
Great work ! -Jordan Williams